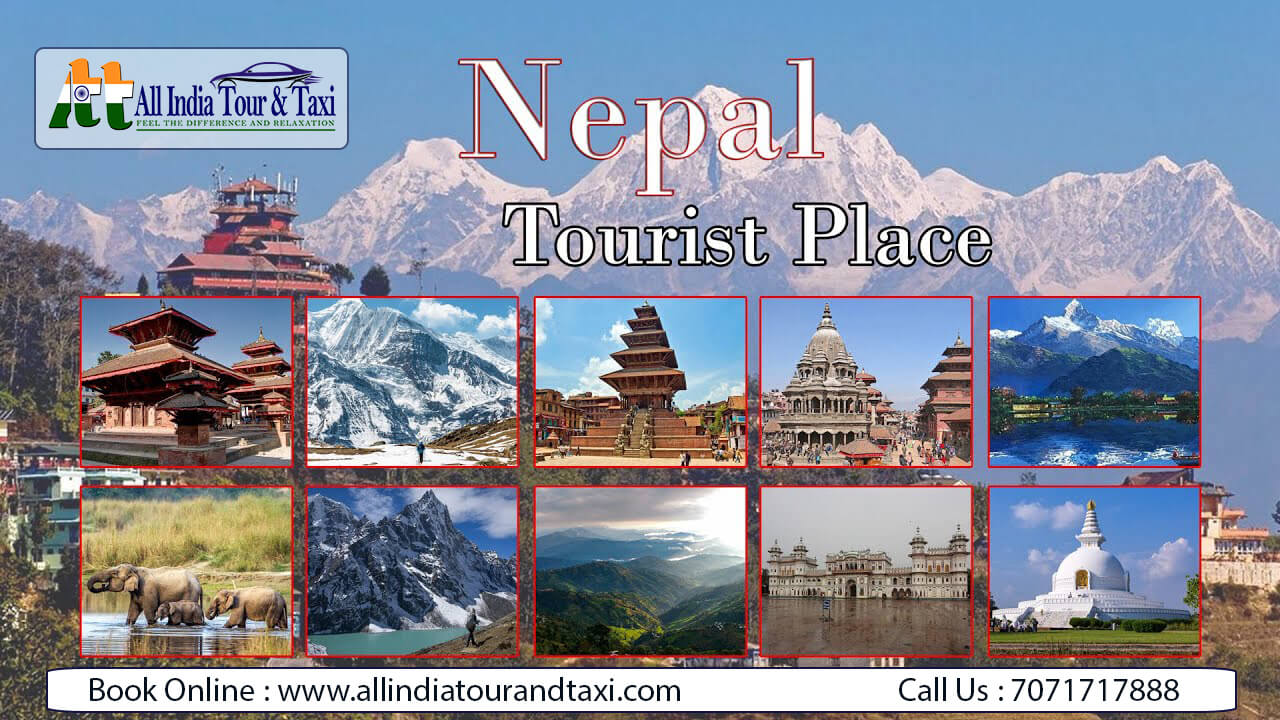 Nepal is a small cultural and religious country whose capital is Kathmandu. This country is known for its mountains and beautiful natural spots. You must know that Mount Everest, the highest mountain in the world, is located in Nepal itself. Similarly, eight out of the 10 largest mountains in the world are located in Nepal. Let us tell you that Nepal has a beautiful mountain, Lake, religious places and a mindblowing climate of Nepal makes it a most important tourist attraction in the world and people come to visit Nepal from different countries. Today in this post, we will know about ten such tourist places located in Nepal related to this, which people like to visit in large quantities.
Kathmandu in Nepal
If you are going to visit Nepal, the country of mountains, then do not forget to visit Kathmandu, the capital of Nepal. Because this city is situated at an altitude of 1400 meters, as well as many beautiful temples, monasteries, serene nature and many other tourist places are settled inside it. There are many such tourist places here which gives a different experience to the tourists who come here.
You can visit Kathmandu in different ways and you can choose any of them as per your requirements.
Gorakhpur to Kathmandu Taxi Service Nepal Tour Package from Gorakhpur
Raxaul to Kathmandu Cab Service Fare Kathmandu Tour Package from Raxaul
Pokhara Tourism in Nepal
Pokhara is a metropolitan city in the country of Nepal. Pokhara is the tourist capital of Nepal as well as the second largest city after Kathmandu. This city is situated at an altitude of more than 900 meters, as well as many such tourist places are settled inside it, where there is a large number of tourists on a daily basis. Talking about the list of tourist places located inside the city of Pokhara, the names of Phewa Lake, Shanti Stupa, Tal Barahi Temple, Ghorepani Hills, Davis Fall.
Most popular route for Pokhara
Gorakhpur to Pokhara Cab Service Fare Raxaul to Pokhara Taxi Service
Best Pokhara Tour Package from Gorakhpur Best Nepal Tour Package from Raxaul
Nagarkot Tourism in Nepal
If you are planning a Nepal trip and you want to see the beauty of the Himalayan mountains, then don't forget to visit Nagarkot in Nepal. Nagarkot is a small and attractive village located in the Bhaktapur district of Nepal. There is also a lot of tourist traffic here.
If it is talked about going here to see the beauty of nature, then you will be able to easily see the beauty of Ganesh, Jugal, Langtang, and Everest. Nagarkot is located just close to the capital Kathmandu at an altitude of 2000 meters.
Nepal Tour Package from New Delhi Best Nepal Tour Package from Patna
Janakpur in Nepal
Janakpur is a very beautiful city in Nepal. This city is associated with Ramayana. Janakpur is located just close to the Indian border. This is the same Janakpur where Mata Sita was born. This is the same Janakpur where Maryada Purushottam Ram ji was married. This city is very closely associated with the faith of Hindus. This city boasts of many grand temples, object art full of charm, and pleasant weather inside itself. Janakpur is really a tourist place worth visiting.
Best Taxi Service for Janakpur from Gorakhpur Book Cab Service from Raxaul to Janakpur
Lumbini in Nepal
If you are even a little knowledge of history, then you must have heard the name of Lumbini at one time or another. Nestled in the lap of the Himalayan Mountains of Nepal is Lumbini, where Gautam Budha was born. Even in today's time, it is considered a very peaceful place of Nepal and the main pilgrimage site of Buddhism. It is also included as a UNESCO World Heritage Site. In Lumbini, you will get to see the monument of Emperor Ashoka and the temple of Mata Maya Devi. If you are also planning to go on a Nepal trip, then do not forget to include it in your list.
Gorakhpur to Lumbini Taxi Service Cost Gorakhpur to Kushinagar Cab Service Provider
Pashupatinath Temple in Kathmandu, Nepal
Pashupatinath Temple is situated on the banks of the Bagmati river, in the near east direction from the capital city of Kathmandu. Pashupatinath Temple is known to Lord Shiva. It is a religious place spread over a large area. This temple was also included as a UNESCO World Heritage in 1979. Every day thousands of pilgrims and tourists come here to visit. This temple has four gates, through which only Hindu people are allowed to go through the main door, not non-Hindus.
Pashupatinath Temple Darshan from Gorakhpur Pashupatinath Tour from Pokhara
Best Pashupatinath Tour Package From Raxaul Kathmandu to Pashupatinath Cab Service
Pashupatinath Tour Package Price from Darbhanga
Bhaktapur in Nepal
Bhaktapur is a pilgrimage center located in the Kathmandu Valley of Nepal. It is clearly visible from its name, that it will be the city of devotees. There will be more pilgrimage places here, which is why it is called the city of devotees. Therefore, whoever comes to Bhaktapur only for the purpose of visiting the religious place. By the way, some people also come here to take the loop of the winding roads.
Changu Narayan in Temple
Changunarayan Temple is an ancient and major tourist attraction in Nepal. In this temple, you will get to see the idols of Lord Vishnu and Sheshnag. Changunarayan Temple is considered to be the oldest temple in Nepal. It is told by historians that this Changunarayan temple was built in the fourth century. And it was repaired and rebuilt in 1702 AD. Only a large number of devotees come here.
Swayambhunath (Monkey Temple) in Nepal
Some parts of the Swayambhunath temple are inhabited by monkeys in large numbers, due to which this Swayambhunath temple is also known as Monkey Temple. This temple is located in the west direction, just near Kathmandu. This temple is considered to be the second most important temple of the capital Kathmandu. If you are also planning to visit here, then whenever you go here, be careful with the monkeys.
Chitwan National Park Nepal
If you are an animal lover and you are going on a Nepal trip, then definitely visit Chitwan National Park. Because you will also get a chance to see many such animals here, which are going to be extinct from different areas of the world. Talking about the animals seen in this park, the names of other animals like the Bengal tiger, one-horned rhinoceros, elephant, leopard and bear are included. You will be given the facility of a jeep, safari, jungle trek, canoe ride and an elephant ride to roam here.
Gorakhpur to Chitwan National Park Taxi Service Best Taxi Service for Chitwan Park