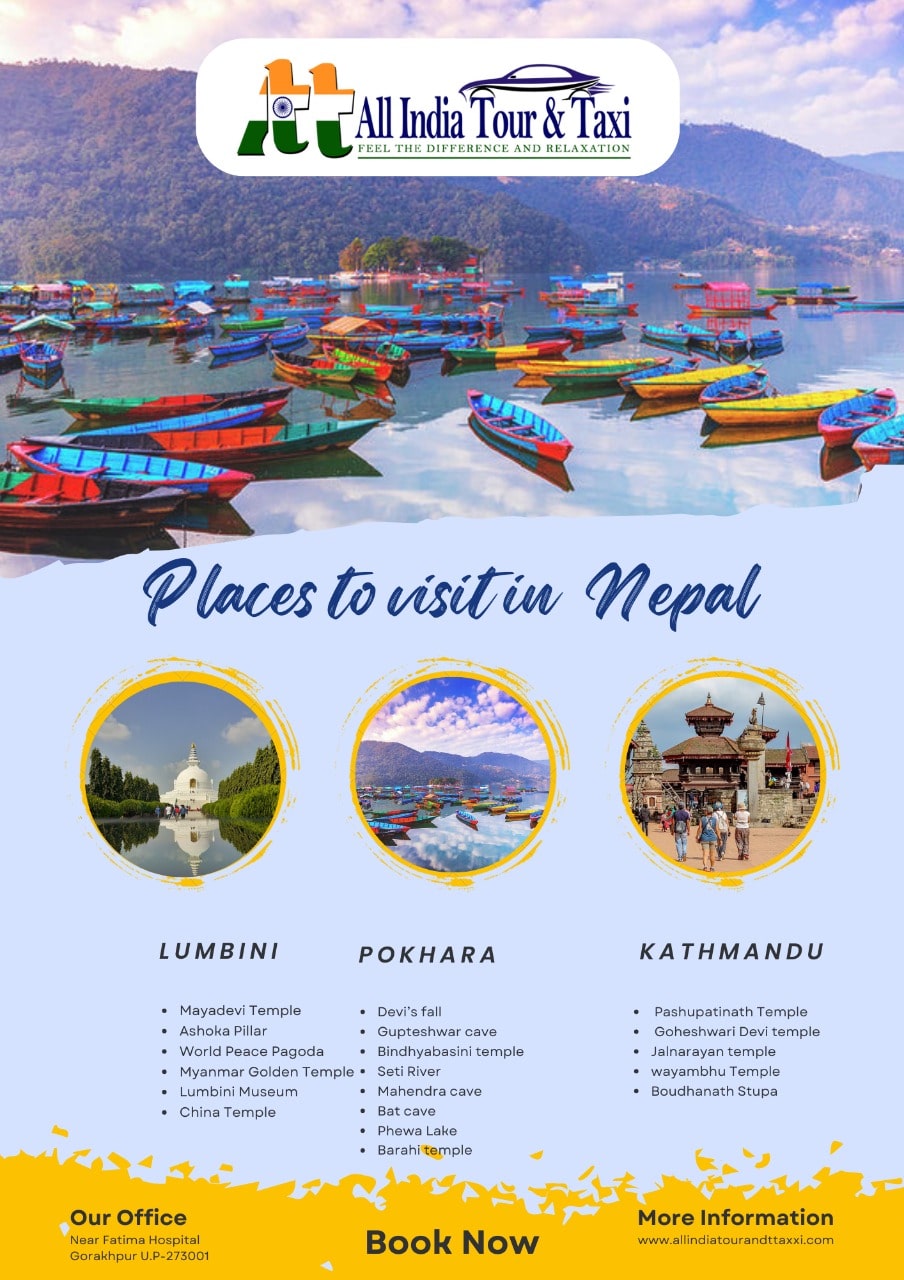 Nepal is the most beautiful country in the world, which is also known as the 'Roof of the World'. Nepal is surrounded by greenery, due to which tourists keep coming here. Many types of people come to visit Nepal like someone has to see the view of big mountains, then someone has to climb or trek in the Himalayas. Some people also come who are interested in knowing the culture and history. Another special thing about Nepal is that the crime rate of this country is very low, due to which it becomes a safe tourist country for the people. If you are also planning to visit Nepal, then first know about some of the wonderful places here and then definitely include them in your list. We are offering the top 12 best Nepal tour packages for our valuable explorers who want to visit Nepal within a reasonable budget.
Kathmandu Tour in Nepal
Kathmandu is a very attractive city and the capital of Nepal. Kathmandu is a city where more than 1.5 million people live. This city is located at an altitude of 1400 meters, due to which it remains cool throughout the year and people also enjoy traveling here. Kathmandu, along with its monasteries, temples, and spirituality, is also known as a place of peace. Travelers get to experience something different here by staying in the beauty of nature.
Best Kathmandu Tour Package from Gorakhpur Nepal Tour Package from New Delhi
Best Kathmandu Tour Package from Raxaul Pokhara Tour Package from Lucknow
Pokhara Trip in Nepal
Pokhara is one of the most popular tourist places in Nepal. Pokhara is a cosmopolitan city spread over the foothills of the Himalayan Mountains. Every year a large number of people gather to see this beautiful city. For your information, let us tell you that after Kathmandu, Pokhara is the second largest city in Nepal, which is situated at an altitude of more than 900 meters. You can also experience many adventurous exciting activities by coming here.
Best Pokhara Tour Package from Gorakhpur Pokhara Tour Package from New Delhi
Best Kathmandu Tour Package from Varanasi Pokhara Tour Package from Raxaul

Swayambhunath Tour in Nepal
If you want to visit the Swayambhunath Temple, this temple is located on a hilltop about three kilometers west of Kathmandu. This is considered to be the most important temple of Kathmandu. The Swayambhu Stupa is the main attraction of the temple complex. You will get to see many monkeys around this temple, due to which this temple is also known as Monkey Temple. Do include this temple in your list while traveling to Nepal and you will easily get local cab services in Kathmandu.
Bhaktapur Tour in Nepal
Bhaktapur, located in the Kathmandu Valley, is one of the most special places to visit in Nepal. Here you will find many temples and pilgrimage centers. Bhaktapur is also known as the city of devotees. However, you will find less crowd here as compared to Kathmandu. The fun of walking in the winding roads here is different. The main attractions of the city are the Durbar Square and the 55-Window Palace.
Book Best Nepal Holiday Package from Sant Kabir Nagar
Lumbini Tour in Nepal
Lumbini is the birthplace of Gautama Buddha, surrounded by the Himalayan mountains. Let us tell you, Lumbini is a UNESCO World Heritage Site. Its stupas and monasteries help make it extremely special. Also, this place is also known as the memorial stubha of Emperor Ashoka. If you are planning to visit Nepal, do visit Lumbini to study scriptures, learn about religion and calm your mind. There is also a temple of Maya Devi in Lumbini, in which the idol of Maya Devi is worshipped.
Lumbini Tour Package from Gorakhpur Book Gorakhpur to Lumbini Cab Service
Chitwan National Park Tour in Nepal
If you are a wildlife lover, then you must also include the famous Chitwan National Park of Nepal in your list. Let us tell you, the National Park comes in the best wildlife of Asia, where people come in large numbers. In this national park, you can see the Bengal tiger, one horned rhinoceros and many such endangered species. Along with many exotic animals, you will also find many elephants, leopards, rhinos, bears and Indian bison here. You can do a jungle safari as well as elephant and canoe rides here.
Chitwan National Park Tour from Pokhara Chitwan Park Tour from Raxaul
Chitwan Tour Package from Kathmandu Raxaul to Chitwan Taxi Service